This post is a bit rough and ready I might pretty it up a bit later, but we're off for the weekend, and I've had to write this on my mobile. Thing is, I'm driven by a sense of disbelief and urgency. Alpro who are a leading manufacturer of dairy free milks in the UK are making changes that may affect a large number of those of us who completely rely on their products!!
Basically, up until now, their soya milk and their nut milks have been manufactured in separate facilities. For those who have nut allergies, and are dairy free, this is a Godsend.
As many of us who suffer food allergies/intolerances know, they rarely come on their own - where there's one, others may follow. Which is why, even if nut allergies are not a problem currently for you, I'd ask you to keep reading and show your support for others.
Tweeter 'parrlox' (Lucy's Friendly Foods) recently noted that the allergy warning on Alpro soya cream had changed. As I understand it, further enquiry led to the information that Alpro would be combining their soya and nut production in one facility and that from 2014 all Alpro soya drinks will carry the nut warning.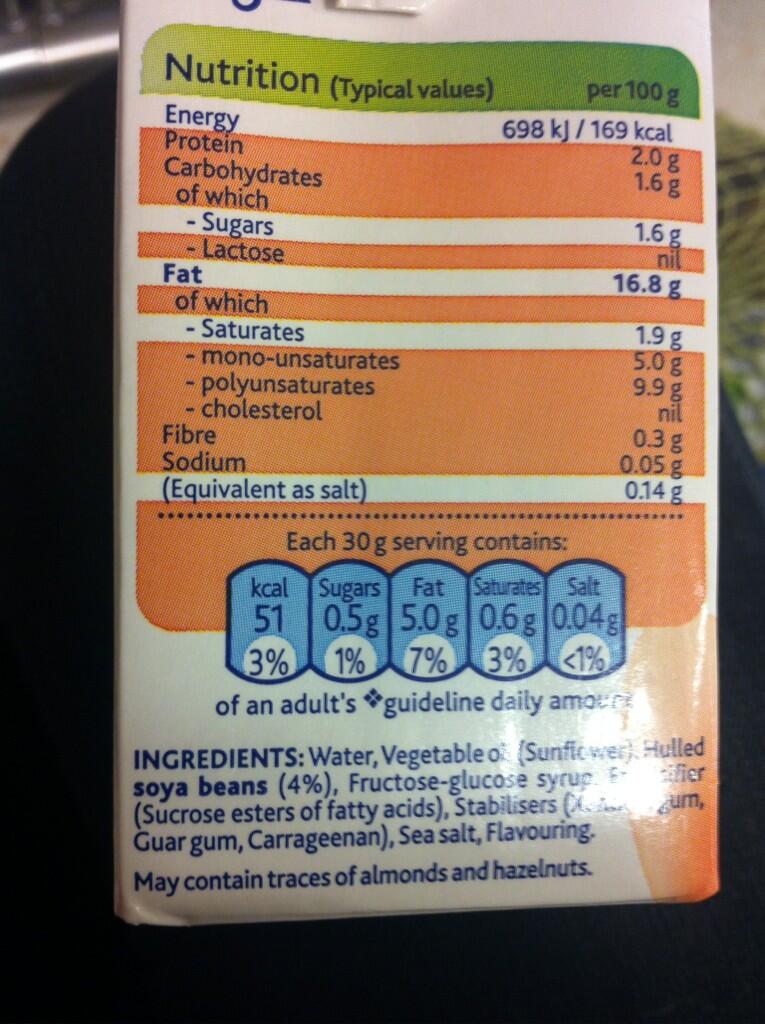 The new allergy warning is already appearing on Alpro products (Photo by parrlox)
Furthermore, this will affect all Alpro soya products: milk, cream, yoghurt etc. meaning that if you have a nut allergy and are also dairy free you could be playing Russian roulette if you consume any Alpro soya product. This is critical as, to the best of my knowledge, Alpro are currently the only manufacturer of reasonably priced and easy to obtain dairy free soya yoghurts (an important source of calcium for many) that are nut free.*
Note the current allergy labelling on an Alpro soya product
It leaves me questioning whether the nut milks that Alpro produce will also carry a soya warning, as they will now be produced in a factory that processes soya. This could potentially cause me a problem.
So what can we do? Well I don't believe apathy gets us anywhere. There is already a bit of a stir on Twitter. My plan is to email Alpro and find out whether they are prepared to listen and change their plans. I know that others who have concerns will be blogging on this too, so watch this space, I'll link them in. And please, if you use Alpro let them know your feelings too!
Here's where to send your thoughts/feelings:


*Co-yo are also dairy, gluten and nut free, but are expensive and hard to come by, for some - hence schools and nurseries would not contemplate buying them.
Other blogs, you might like to read: